Bernhard Wiesinger studierte am Konservatorium Wien Diplom Instrumental- und Gesangspädagogik (IGP) und Konzertfach Saxofon und schloss beide Studien 2005 mit Auszeichnung ab. Im Rahmen eines postgradualen Studium absolvierte er zwei Semester am renomierten Berklee College Of Music in Boston/USA (2005/06) und erhielt zum Abschluss seines Masterstudium am Saxofon an der Konservatorium Wien Privatunversität den Titel Masters of Arts.

Bei der MM Nachwuchsföderung wurde er 2007 Nachwuchstalent ausgewählt.
Kulturpreis Niederösterreich 2022

Bernhard ist seit 2006 Dozent beim Internationalen Jazzworkshop im Rahmen des Poysdorf Jazz & Wine Summer und wirkte als Dozent f&uumlr; Querflöte/Saxofon/Klarinette am Internationalen Meisterkurs in Mistelbach 2009-2013.

Er spielte in China, Deutschland, Griechenland, Italien, Luxemburg, Slowakei, Tschechische Republik, Ungarn, USA, ...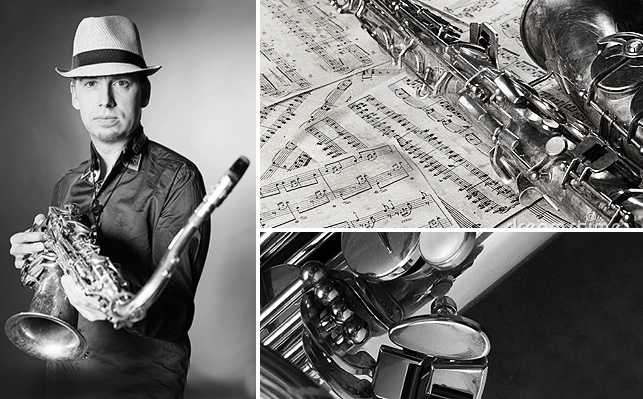 BIO ENGLISH
Bernhard Wiesinger studied instrument and voice pedagogy (IGP) and concert saxophone at the Conservatory of Vienna and completed both studies with honours in 2005. For postgraduate study, Bernhard spent two semesters at the prestigious Berklee College of Music in Boston, USA (2005-06). Finally, he completed a Master of Arts in saxophone at the Konservatorium Wien Privatuniversität.
In 2007, he was chosen as the rising star in the Marianne Mendt promotion of young talents. Since 2006, he has been teaching at the International Jazz Workshop at the Poysdorf Jazz & Wine Summer.
He taught flute, saxophone and clarinet at the International Master Class in Mistelbach 2009- 2013.
Bernhard has played internationally, including performances in China, the Czech Republic, Germany, Italy, Luxemburg, Slovakia and the USA.

Credits
Anthony Wonsey, Bill Stewart, Boris Kozlov, Christian Havel, Danny Grissett, Don Menza, Dave Kikoski, Dusko Goykovich, Erwin Schmidt, Fritz Pauer, Geri Schuller, Gisele Jackson, Harry Sokal, John DiMartino, Jon Davis, Joris Dudli, Juraj Bartos, Kevin Hays, Klemens Marktl, Lori Williams, Lukas Oravec, Marianne Mendt, Mario Gonzi, Mark McKnight, Martin Reiter, Oliver Kent, Ondrej Stveracek, Pavel Wlosok, Pete McGuinness, Reinhold Schmölzer, Renato Chicco, Rens Newland, Rob Bargad, Robert Bachner, Rudi Berger, Scott Colley, 
Weiteres:
Karl Markovic, Karl Merkatz, Adi Hirschal, 
  u.v.m.
Big Bands
Richard österreicher Big Band, Robert Bachner Big Band, Marianne Mendt Big Band, Swing Time Big Band, Teddy Ehrenreich Big Band, ZWE Big Band, ...
Events & Engagements
Opernball, Kapsch, Singer/Fössl, Autohaus Wiesinger, Knapp, Wiener Industriellen Vereinigung, Kursalon Hübner, Boku Wien, Celgene, Bank Austria, Parkhotel Pörtschach, Kreuzfahrtschiff MS Europa, Bad Powells, Bernd Fröhlich Orchester , Dancing Stars Orchester, Albertina All Stars Band, Lady Sunshine & Mr.Moon, Jazzphoniker, Hofburg, Hilton Wien, Palais Auersperg, Palais Coburg, spielte für Bundespräsident Heinz Fischer, Parlament, NÖ Landesausstellung, ...
Musicals
Les Miserables (Mistelbach 2000/2001), Jesus Christ Superstar (Mistelbach 2002), Jesus Christ Superstar (Staatz 2004), C'est la Vie" (Stockerau 2007), Der Hofnarr (Asparn/Zaya und Metropol Wien 2013/14), Maja Hakvoort Band, ...
Organisator
Obmann des Vereins "Poysdorf Jazz & Wine Summer/Jazz Werkstatt Poysdorf" seit 2009
www.jazzandwine.at
Programmgestaltung Eröffnungsfeier NÖ Landesausstellung 2013
Workshop für Holzbläser "Ready To Improvise" 2015
Jazz for Kids
Projekte
Bernhard Wiesinger Quartett feat. Dave Kikoski
Bernhard Wiesinger Septett
Lori Williams Band
free TENORS feat. Harry Sokal (www.freetenors.com)
Miss Moravia (www.missmoravia.com)
Bernhard Wiesinger Organ Quartett
Four very saxy Brothers (www.jazzahead.com)
Unterricht
Dozent beim Workshop "Poysdorf Jazz & Wine Summer" seit 2006
Dozent Internationale Meisterkurse 2009-2013
Musikschule Wien (2007-2009)
Workshop
Musikschule Krems